"
What Lovers Do
" is a song by American pop rock band 
Maroon 5
 featuring American R&B singer 
SZA
. It was released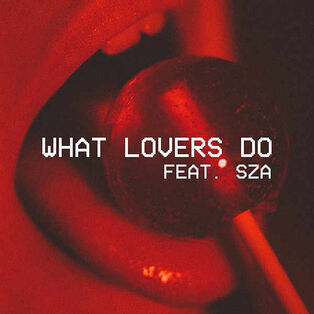 on August 30, 2017, as the third single from the band's upcoming sixth studio album 
Red Pill Blues
 (2017). The song contains an interpolation of the 2016 song "Sexual" by Neiked featuring Dyo, therefore Victor Rådström, Dyo and Elina Stridh are credited as songwriters.
Background and release
Edit
After extensive touring in support of their fifth studio album, V (2014), Maroon 5 began the writing and recording sessions for their sixth studio album. On October 11, 2016, the band released the tropical house single "Don't Wanna Know", featuring American rapper Kendrick Lamar. Another single, entitled "Cold", featuring American rapper Future, was released on February 17, 2017. In August 2017, videos and Snapchats from lead singer Adam Levine revealed that the group were recording the new music video for "What Lovers Do", with recording artist SZA.
On August 26, 2017, the name "What Lovers Do" and cover art for the track were revealed on the online media knowledge base website Genius. The release date for the single was revealed three days prior.
A 16-second preview of the single was unveiled by the band on their official website on August 27, 2017.
Composition
Edit
"What Lovers Do" runs for approximately 3 minutes and 20 seconds. It was written by Adam Levine, Starrah, Jason Evigan and Solána Imani Rowe and was produced by Jason Evigan, Ben Billions, Sam Farrar and Noah Passovoy. Victor Radstrom, Dyo, and Elina Stridh are also credited songwriters on the record, as songwriters of "Sexual" by Neiked.
The song is performed in the key of B♭ major with a tempo of 110 beats per minute. The song follows a chord progression of E♭5–Gm–F–B♭–E♭, and the vocals in the song span from F3 to D5 in common time.
Music video
Edit
The music video was released on Vevo on September 28, 2017, and was directed by Joseph Kahn.
Synopsis
Edit
Live performances
Edit
The band performed "What Lovers Do" for the first time at Rock in Rio in Rio de Janeiro on September 16, 2017.