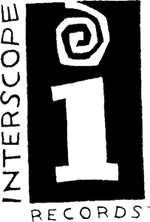 Interscope Records, Inc.
 is an American record label that operates as a imprint of Interscope Geffen A&M Records. It was founded in 1990 by Jimmy Iovineas a Hip hop label, which was then half-owned by Atlantic Recording Corporation, until it was acquired by Music Corporation of America, Inc. in 1995 over a contention in Gangsta rap.
Since 1999, the label is one of Universal Music's most transcendent labels and operates as the most active under Interscope Geffen A&M Records subsidiary, which is headquartered in Santa Monica, California. The label's current artists include Eminem, Fergie, Phillip Phillips, Dr. Dre, Maroon 5, Kendrick Lamar,Madonna, Lana Del Rey, Schoolboy Q, OneRepublic, No Doubt, Imagine Dragons, Zedd and Lady Gaga, among others.
Interscope became the number-one charting label based on Mediabase, and also with the largest label share on over four radio formats, with Adult Contemporary being their largest share of the formats.
After releasing their first four studio albums on A&M/Octone Records, Maroon 5 signed with Interscope in 2014 and released their fifth studio album, V, on the label later that year.